AUSTIN, August 29, 2022 – Amplify Credit Union has announced that Angela Shaw has joined its leadership team as Senior Vice President of Talent. With 23 years of experience in the human resources industry as both a leader and educator, Shaw will oversee Amplify's award-winning culture as the credit union continues its evolution as a remote-first workforce.
Shaw recently served as the Chief People Officer at JuiceLand, a Texas-based retail chain that specializes in health-conscious smoothies and food. Shaw also brings a strong instructional background to Amplify having served as a former Adjunct at the University of Texas at Austin, Austin Community College, and the Society for Human Resource Management. Shaw's volunteer background includes her current role on the PelotonU board and her former position as the Director of Diversity and Inclusion for the Texas Society of Human Resource Management.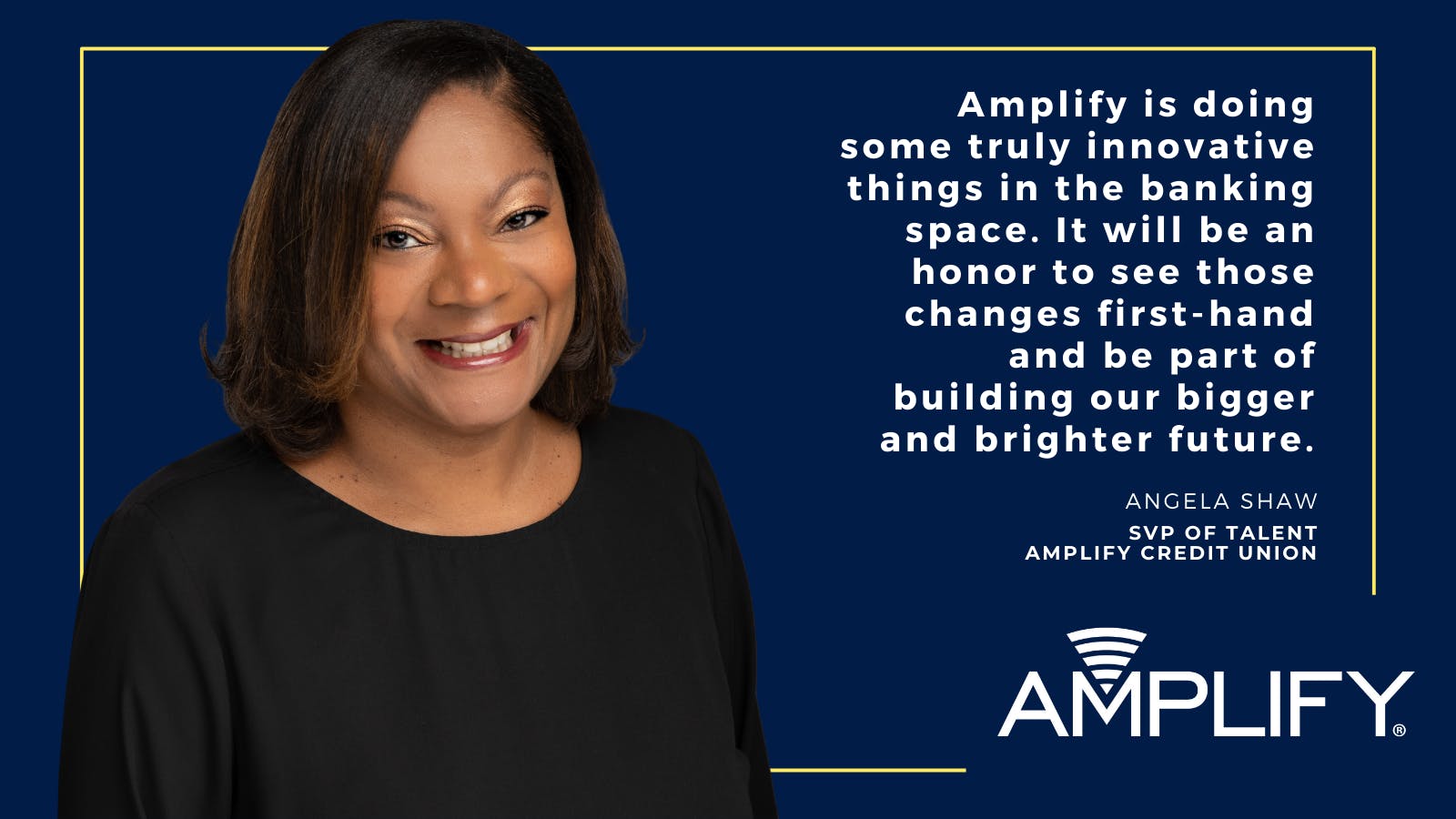 "Angela brings a true vision for what the future of work at Amplify can look like," said Kendall Garrison, Chief Executive Officer at Amplify. "Over the past two years, we've embraced our role as a hybrid organization. Angela's experience as a leader and educator will help us continue to create a welcoming organization for both our in-person and remote team members."
As the SVP of Talent, Shaw will build on Amplify's foundation as an award-winning employer. In 2022, Comparably named Amplify one of the best small or mid-sized companies in the categories of Best Companies for Career Growth and Best Company Outlook. Amplify has also been named a Top Workplace by the Austin American-Statesman in three consecutive years.
"Amplify is doing some truly innovative things in the banking space," said Shaw. "It will be an honor to see those changes first-hand and be part of building our bigger and brighter future."
About Amplify Credit Union
Amplify Credit Union offers fee-free banking and award-winning lending throughout the state of Texas. In 1967, the organization was founded as the credit union for IBM employees in Austin. Today, it provides digital-first banking and lending services to 60,000 members, including home loans, checking & savings accounts, commercial lending, and more. In addition, Amplify has been named a Top Workplace in Austin for three years in a row, and this year was named a Top 50 Workplace in the USA. The organization is rooted in its mission to improve the financial lives of its members and uses the proceeds from that to provide a safe place to call home for those without. Join us at www.goamplify.com.
####
Visit the Amplify newsroom
See recent updates and media coverage from the team at Amplify Credit Union.