July 20, 2020 | news
Amplify Joins 'The House That Credit Unions Built'
Through its work with organizations like Caritas of Austin, Saint Louise House, and the American Red Cross, Amplify Credit Union has dedicated itself to safe and equitable housing for every Austin family. Thanks to the work of the Austin Chapter of Credit Unions, Amplify can add another relationship to that list: the incredible team at Austin Habitat for Humanity. 
Since 1967, Habitat for Humanity and its volunteers have worked to promote the concept of partnership housing. This idea brings together people in need of affordable housing with community volunteers committed to creating a safe space for those in need. Thanks to the ongoing support of people like former President Jimmy Carter – who continues to volunteer into his mid-90s – Habitat for Humanity has become a force for real change for millions of families. 
"Everyone knows the importance of Habitat for Humanity, especially here in Texas," explained Amplify Credit Union President Kendall Garrison. "The work Habitat did to help families recover from Hurricane Harvey can never be overstated." With the help of over 8,800 local volunteers, Habitat Hammers Back – the ongoing initiative to help hurricane-affected families across the United States – was able to offer thousands of disaster relief and recovery services to families impacted by the hurricane.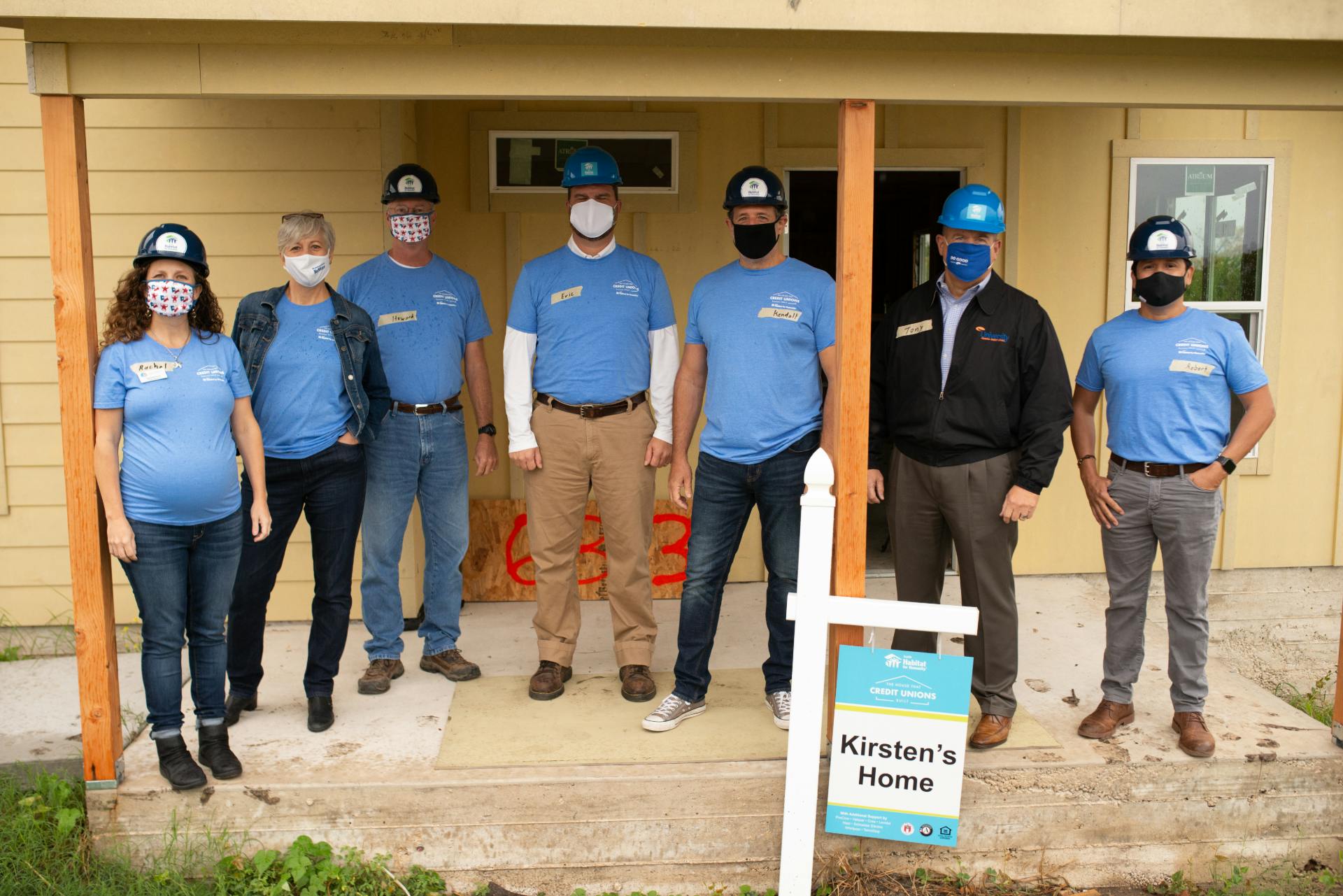 So when Amplify was asked to participate in The House that Credit Unions Built, Garrison and other members of the leadership team were more than ready to get involved. Together with other members of the Austin Chapter of Credit Unions – including University Federal Credit Union, Velocity Credit Union, and more - Amplify committed to sponsoring a new build for one Austin-based individual in need of long-term housing.
Garrison and other credit union team members were on hand for a stud-signing event on Thursday, September 10, where participants added words of encouragement to the new home's foundation. "This has been a rough year for so many families here in Austin," Garrison said. "Having an opportunity to step back out in the world and leave a positive, lasting mark for Kirsten is an important reminder of why service is so important to our team."
And in the months to come, the work that Amplify volunteers do with Habitat for Humanity will play an important part in the credit union's ongoing Safe Place to Call Home campaign. "We're lucky to work with several organizations that offer essential services to those experiencing homelessness," Garrison adds. "We are proud to add Habitat for Humanity to this list."
Visit the Austin Habitat for Humanity Flickr page to see more photos from the event. For more information on the Safe Place to Call Home initiative, visit our Safe Place to Call Home webpage.
Here's How Amplify Gives Back
Learn more about Amplify's signature Safe Place to Call Home initiative.
Learn More