September 12, 2022 | homebuying
11 Tips for Moving Into a New House
Homebuying can be a chaotic time. Between the home search, negotiations, and paperwork, you may be a little frazzled by the time you move in. Though the hard part is over, there are a few things to be done before you settle in and start hanging pictures on the wall.
To make your life a little easier, we've made a list of 11 things you should do to get your house ready for you and your family.
From Mortgages to Home Equity Loans
Our local, award-winning lending team is ready to help you begin today.
Learn More
Moving Into a New House Checklist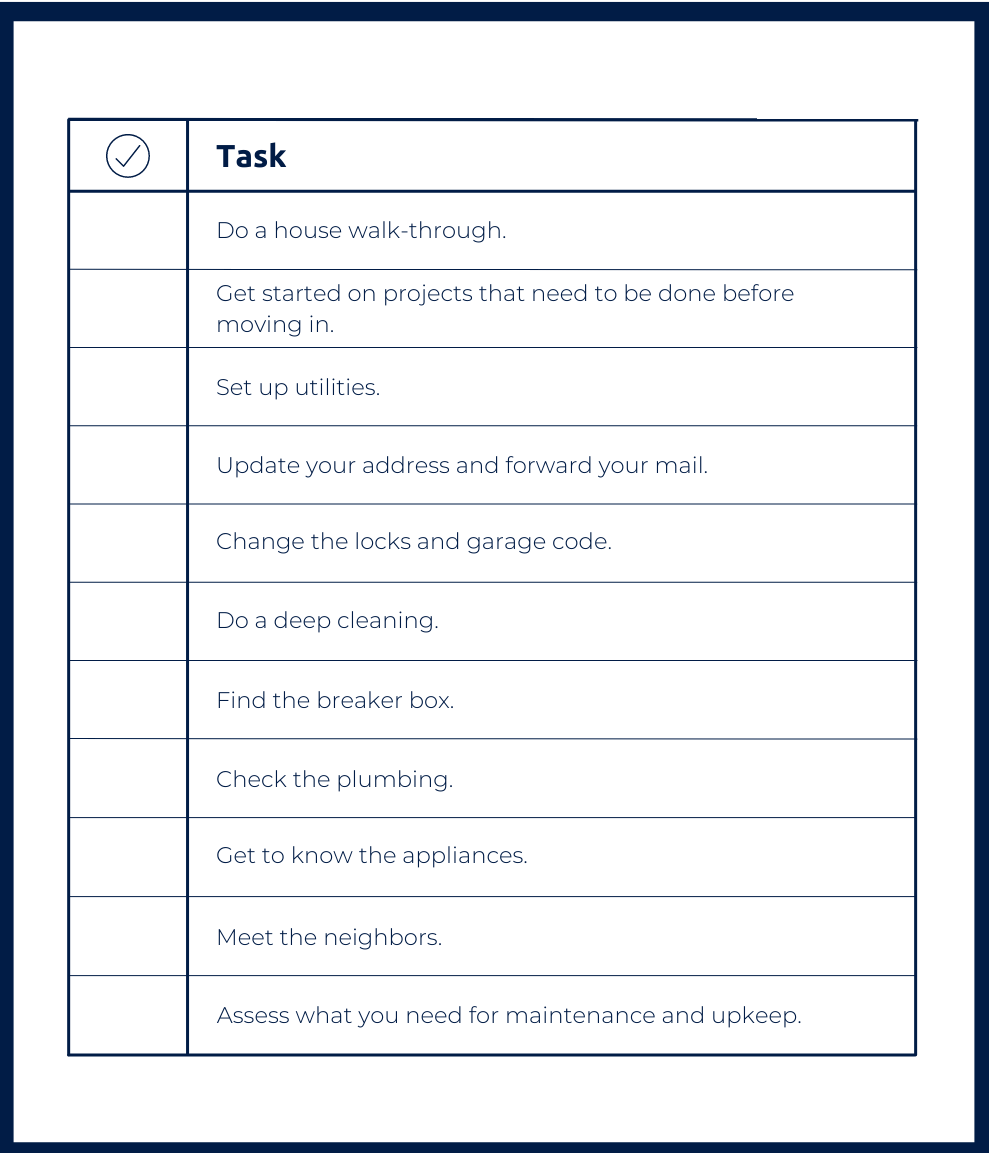 1. Do a walk-through of the house.
While the house is empty, do a walk-through of your home. You'll be on the lookout for several things.
Check that the seller made all of the agreed-upon repairs outlined in your purchase agreement. If you find that repairs were not made, contact your real estate agent.
Look for anything that needs to be addressed immediately. Notice an ant colony setting up shop in the kitchen sink? Did a window get busted in the storm that blew through after you bought the house? Is the lawn overgrown and attracting unwanted pests? These are all issues that you should take care of sooner than later.
Plan your immediate furniture and appliance needs. You may be dramatically upsizing your living arrangements. Use your walk-through to get an idea of your immediate furniture and appliance needs.
2. Get started on projects that should be done before moving furniture in.
Already have plans for renovations or home improvements? Some of those may be easier to complete before you move furniture in. For instance, if you already know that you want to replace the old, worn-out carpet in your house, it's better to get it done before you move in.
3. Set up utilities.
If you haven't already done so, transfer all utilities to your name and start service before the time you move in. This includes:
Water
Electricity
Natural gas (if your home is equipped with gas appliances)
Waste/trash pickup
Internet, telephone, and cable
If utilities have already been set up, make sure everything is in working order. Make sure your lights turn on, your faucets are flowing, and gas appliances are running.
4. Update your address and forward your mail.
Update your address on all of your accounts and subscriptions. This may include:
Bank accounts
Credit cards
Subscriptions like meal prep services, clothing deliveries, streaming services, etc.
Online shopping accounts such as Amazon
You can also ensure your mail is sent to the right place by setting up mail forwarding through the United States Postal Service online or at your local post office. USPS packages will be sent to your new house, even if the sender used your old address.
5. Change the locks and garage code.
Change the locks on all the doors and select a new garage code (if you have one!). For the most part, homeowners will do their best to collect and provide all keys to the new owner. But even the most well-intentioned seller can forget who else might hold a key, especially after years of owning a home. Keys and garage codes are handed out to neighbors, babysitters, pet sitters, cleaners, etc.
For the safety of you and your family, it's always best to change any locks and codes.
6. Do a deep cleaning.
Yes, after you've spent days and maybe even weeks packing and cleaning up your former home, you also need to spend some time cleaning your new home. This is the perfect time because you haven't unpacked and filled each closet, cupboard, and corner with your personal belongings yet.
7. Find the breaker box.
Typical locations for an electrical panel are the basement or garage. Find your fuse box and become familiar with the breakers.
Some homeowners label breakers or create a guide that lists which breaker goes to which part of the house. If no guide is provided, consider creating one in the future. This way, if you need to turn the power off to a specific section of your house, you can easily and quickly locate the correct circuit breaker.
8. Check the plumbing and locate water shutoffs.
You most likely had an inspector look over your house prior to the purchase, so everything should be in working order. But it's also a good idea to locate any areas of plumbing access, such as your home's water shut-off. This main water valve might be located in the basement, on an exterior wall, or in a box underground.
9. Get to know the appliances.
If your home came with appliances, spend some time getting to know them. Make sure you understand their quirks, and if you have any questions or concerns, refer back to the owner's manual.
Tip: Don't have a paper copy? Most owner's manuals can be found online by looking up the manufacturer and model of the appliance.
10. Meet the neighbors.
The neighbors have likely been awaiting your arrival since the house went on the market. They might come visit you first, but if they don't, try to make a point to introduce yourself. Building a good relationship with your neighbors can make a big positive impact on the way you feel about where you live. You don't have to do anything formal. Sometimes a simple smile and wave are all that's needed.
11. Assess what you need for maintenance and upkeep.
Lastly, assess what you need for maintenance and upkeep. Some basics to have on hand include:
A toolbox that has basics like a screwdriver set, hammer, wrench, pliers, level, and tape measurer
Allen wrench key set
A power drill with interchangeable bits
Stud finder
Duct tape
WD-40
Cleaning supplies such as a broom, dustpan, vacuum, duster, countertop cleaner, Swiffer or wet mop
You'll undoubtedly use these items, so it's better to get them upfront. Having a tool on-hand is better than taking a trip to the hardware store mid-emergency.
Getting Settled
Moving into a new house can feel overwhelming. Use this move-in checklist to take care of the most important things first. After you've completed these tasks, you can move on to the fun stuff— making your house a home!
Ready to get prequalified?
Apply today and start your journey toward your new home.
Prequalify Now