October 22, 2015 | news
Local Motion!
---
Article by Jim Baker | Photographs by David Weaver
The good news for those frustrated by navigating Austin's congested streets is that there is a transportation alternative that has a tiny carbon footprint, is good for you and does much to alleviate the city's traffic and parking problems.
Rocket Electrics of Austin sells, rents and services this two-wheeled solution: the electric bicycle. Founded by partners Nicole Zinn and John Dawson in December of 2011, they have four full-time and 12 part-time employees working out of their showroom and service center located at 1608 East Riverside Drive.
"Unlike motorcycles, which provide power all the time, electric bikes provide it on demand," said Dawson. "The power is there for steep grades or commuting to work without sweating, or if you just want to extend the range of your ride. One of the big misconceptions is that you're not getting exercise because it's electric, but we find, time and again, that people are getting more exercise because they use an ebike more often."
The bikes, which can cost anywhere from $2,200 to $6,000, run on lithium ion batteries that last three to four years and are recyclable. No special charging stations are required; a simple plug-in to any wall socket will do the trick at a cost of only 2 cents worth of electricity. A charge is good for more than 20 miles of riding.
When you buy an electric bicycle, you'll get a thank-you from the city for choosing a greener option. "Austin Energy offers incentives of $150 to $300 when you purchase an electric bike," said Zinn. "And, unlike automobile ownership, electric bikes do not require registration, insurance or an operator's license."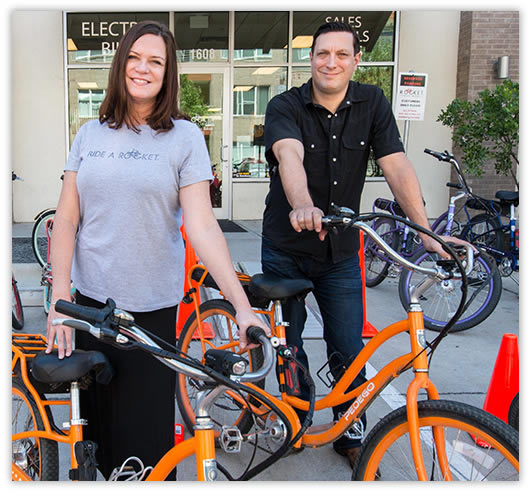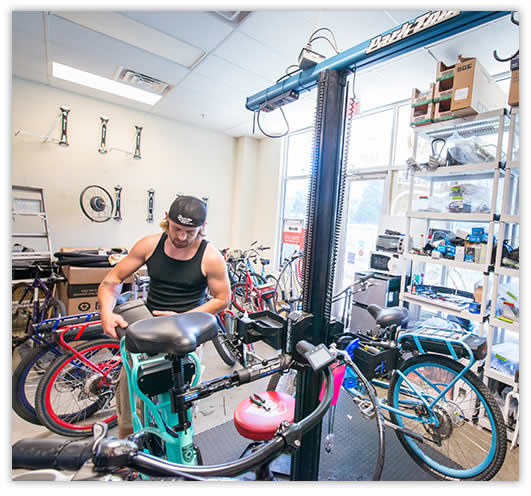 In addition to having the largest electric bike rental fleet in the United States, Rocket Electrics also offers a variety of guided electric bike tours around Austin. Their most popular offering is the food tour; it is often ranked as number one on TripAdvisor. Throughout the year, they take both small groups and large corporate outings to locally owned food trailers and restaurants. The package includes a guide, ebike rental and four courses of food.
Rocket Electrics' music tours are also popular. The guides are local musicians who lead the tour groups to famous locales, giving history and personal recollections. "At the end of the tour you will get a performance given by your tour guide. In keeping with local spirit, 10 percent of the proceeds go to HAAM, the Health Alliance for Austin Musicians," said Zinn.
Because Rocket Electrics had a unique business model with few comparative businesses, getting financing from a traditional lender was not easy. The founders Zinn and Dawson turned to Amplify Credit Union for their lending needs.
"The neighborhood feel of Amplify is very appealing," said Dawson, "We were able to meet directly with someone who could help us right away."
Rocket Electrics continues to see an increase in the number of bikes rolling out their door. With their increasing popularity, they will soon have to address expansion. "In time, we'd like to have more locations," said Zinn.
rocketelectrics.com
(512) 442-2453
1608 E Riverside Dr.
Austin, TX 78741